Blue Note accomplished the following projects for HMC:
1) Stabilized, enhanced and assessed the HMC Router application.
This is a key operational application which provides a 'soft switch' between:

HMC's internal systems such as trade capture, cash wire and security feeds
An off-site accounting system
An off-site SMAC (securities management and control) system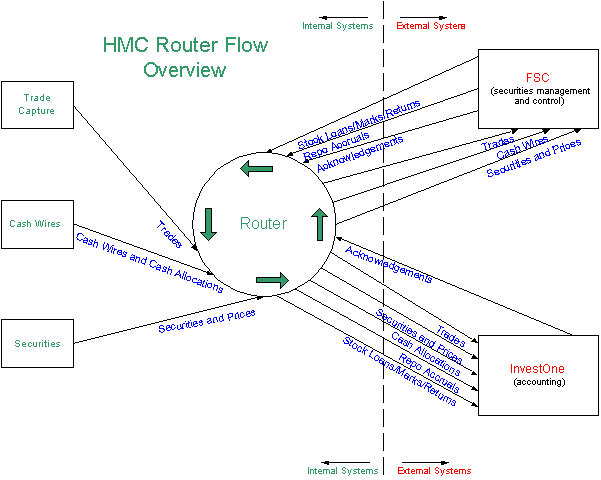 The Router application:

Maps and routes transactions (messages) to and from all the above systems.
Records acknowledgement of receipt of information and creates cross-reference information.
Forms the basis for reconciliation among these systems.
Positions HMC well for the approaching T+1 settlement requirement.

The application is implemented in C/Sybase.
Stabilization was achieved by identifying and resolving problems:

within the application logic.
with implementation (i.e. memory leaks).

Enhancements included adding transaction types such as stock loans and cash wires to the Router
Assessment resulted in a series of recommendations, which were adopted, that improved reliability, supportability, etc.
2) Rearchitected a critical database transformation and replication application to improve performance and reliability.
Performance gains were realized by:

Introducing parallelism
Employing intelligent ordering techniques

Reliability gains were realized by:

Implementing sophisticated, positive status checking and recovery to ensure:

Availability of necessary resources
Resolution of deadlock conditions
etc
3) Designed and implemented a web based reporting and data distribution application that provided real-time information to traders at Harvard Management.
This HTML/C/CGI based application allowed users to:

select from 40 reporting options
select from a set of flexible selection criteria
indicate a preference for

formatted HTML output
data formatted for import into a spreadsheet or database
both

Retrieve relevant data from relational database(s).
Dynamically format HTML, including drill down links.
Optionally deliver importable data to the desktop.