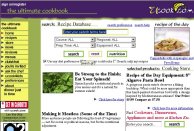 ucook.com is an award winning web site implemented entirely by Blue Note. The site provides access to over 65,000 recipes from the world's best selling cookbooks. It features a custom search facility developed by Blue Note. XML technology underlies the back end recipe acquisition and analysis process that proceeds from book text to sophisticated nutrition analysis, search facility construction, and high performance data structures. Additional back end facilities provide for editorial entry, preview, and scheduling as well as general maintenance of the site.

This site won the the Software and Information Industry Association's 1999 Codie award for Best Debut of the Year and the 2000 Codie for eCommerce Storefront - Best Debut.
Highlights of ucook.com:
A unique system to parse, check and compile cookbook data into a 'fine' set of name/value pairs and import this data into a database. Maintenance applications allow staff to add various attributes, including course and ethnic attributes, preparation times, etc. Functions calculate and add nutritional information to all recipes. A rich set of searchable attributes are extracted from the cookbook and recipe data.
Powerful search techniques that provide recipe searches by any combination of ingredients, nutritional preferences, course, ethnicity, equipment, prep times, book, author, etc.
A popular,community based web site that provides recipe search and acquisition as well as facilities that allow users to save recipe collections, nutritional preferences, favorite cookbooks, etc.
On-line and off-line functions that allow the ucook editorial staff to prepare and publish a daily cooking e-zine, both on-line and via email.
An eCommerce component to the ucook web site. The ucook store provides shoppers with access to cooking related products. 'Plug-ins' developed by Blue Note integrate access to OrderTrust's payment and order management services into the (Cold Fusion) web site.